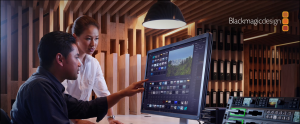 Schedule: First Day of Class: Thursday January 21, 2021
Last day of Class: Tuesday March 30, 2021
Final Exam : Thursday, April 1, Noon-12:50p
Class : Tuesday & Thursday 12pm – 1pm
Room: CCS -A
Instructor: Roberto Mendez
Required: Must Take ESA1 Creative Storage Class Alongside BMD1 to Understand the Use of Storage in the Editing Workflow
The BMD1 Class is NOT a Video Editing Class, the Class will not Cover Video Editing/Film Techniques
The BMD1 Class will Cover the Davinci Resolve Software TOOL to be Certified as a Davinci Resolve User
Interactive Distance Learning (IDL): Due to COVID19 the BMD1 Class is Distance Learning. Classes will be via ZOOM Link sent to the Email you Registered with.
We will be providing Recorded Videos for you to watch for each Lesson, the set Class Times for Zoom will be Q/A for the Lesson Watched.
Overview: As the world shifts to electronic communication, there are career opportunities opening up in the broadcast, cinema, video game, entertainment and corporate video world. BMD1 will teach you the tool skills needed to use the current industry standard video editing tool for HD and 4K content – DaVinci Resolve from Blackmagic Design. The 11 weeks class will cover all the material and practical examples needed to be able to pass the BMD editing certification.
The class will cover the setup and management of video libaries, creation of new video projects, basic editing, trim, voiceover & soundtrack attachment, multi-track editing, titling and basic effects/ transitions and how to output the results for Broadcast TV, Streaming Services, and Cinema use. The course will touch on the color correction, advanced audio processing & sound design, and motion graphics that are part of the additional Blackmagic Design classes.
Software for the Class will be Provided,The students will need access to a Computer (Windows recommended) for the class.
Minimum Computer System Requirements
A 64 bit operating system
A minimum of 16GB of RAM is recommended for Video Editing, 32GB minimum for Fusion (Effects and Motion Graphics)
An NVIDIA, AMD or Intel GPU with a minimum of 2GB of VRAM that supports versions greater that either supports Metal, OpenCL 1.2 or CUDA 10. (CUDA compute 3.0)
A modern quad core CPU or greater
Drivers and Updates
Make sure that your system is up to date with the latest drivers for all the hardware, as well as the operating system version, patches and service packs.